Now that the dust has settled and Janja-fever has subsided, I sit down with some thoughts on how the entire episode was like for me to be up close and personal with this global climbing superstar. Some context for some of my non-climbing friends, Janja's superstardom can be read here and the screen grab from wiki below.
The gym, boulder+, that I do socmed is no stranger to hosting big names. We've had another global superstar Ogata Yoshiyuki gracing our gym in 2018. The idea of having Janja was first mooted sometime in Mar/Apr. It took some correspondence, long periods of waiting, a lull, almost forgotten, and then an email which confirmed the visit. We only had 2 weeks to make this show work in late Aug, and we sure as hell did! Props to the b+ bosses for this vision and materialising this gig, making it a dream come true for many Singapore climbers - young and old, new and seasoned.
Caveat: was never a Janja fan only because she always appeared cold, aloof and serious (on tv!); and I like underdogs. But this experience, right from the get go, altered my impression.

Two adjectives to sum up my interactions with her - easy going and genuine. Having greater access to Janja in photographing her when the team was out for meals/visits, chaperoning her to the toilet, convos in between waiting, watching her behaviour both 'onstage' and 'offstage' led me to this conclusion. The way she carried herself was extremely professional - even after a long day but yet still friendly with fans, emitting v good energy, polite - it was a good reminder for me to keep my own standards as well, i.e. doesn't matter how up on that pedestal you are, it really is about how you treat everyone around you that shines.
The one big event that the gym held was a demo climb for Janja with 4 of SG's finest climbers - Dennis Chua, Luke Goh, Judith Sim, Vanessa Teng, with a crowd of 300 backing everyone with cheers and applause. It was a nice atmosphere and something the climbing scene has been sorely missing. I'm pretty sure the climbers who had the opportunity to meet and speak with Janja left mighty pleased and inspired.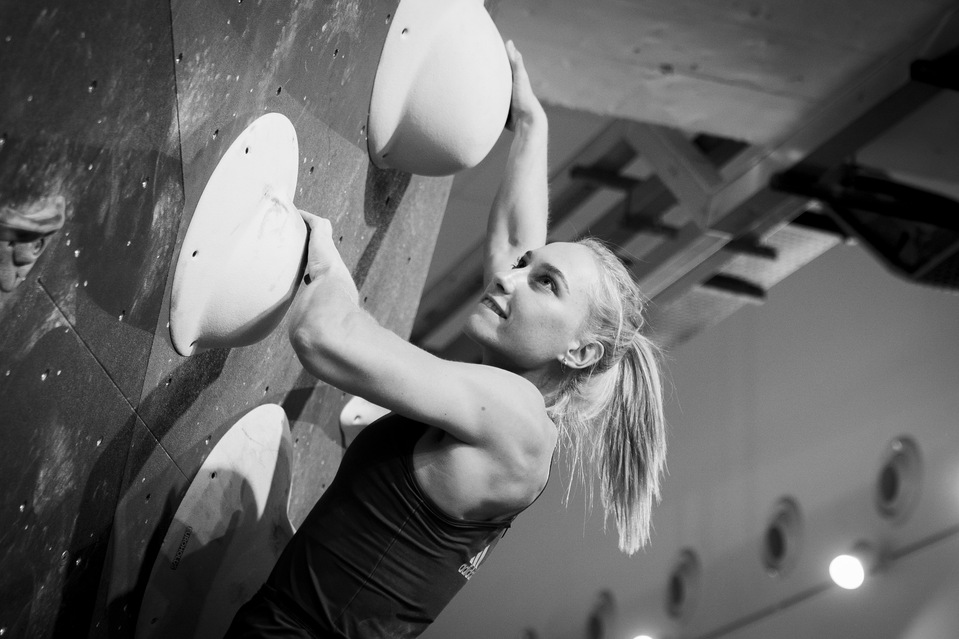 In Sg, climbing is still a pretty nascent but growing sport. With the proliferation of climbing gyms sprouting across the island, one is now spoilt for choice when it comes to training in different setting, wall profiles and holds. Sure, there's more room for growth and so much potential when it comes to route setting and growing our batch of national climbers, but hopefully with the expansion of the sport to the masses and growing interest in the community, it plants seeds for the future generation to step up and shine on the world stage.
One can always dream, right? :)