[Doi Inthanon by UTMB / 14km +710m]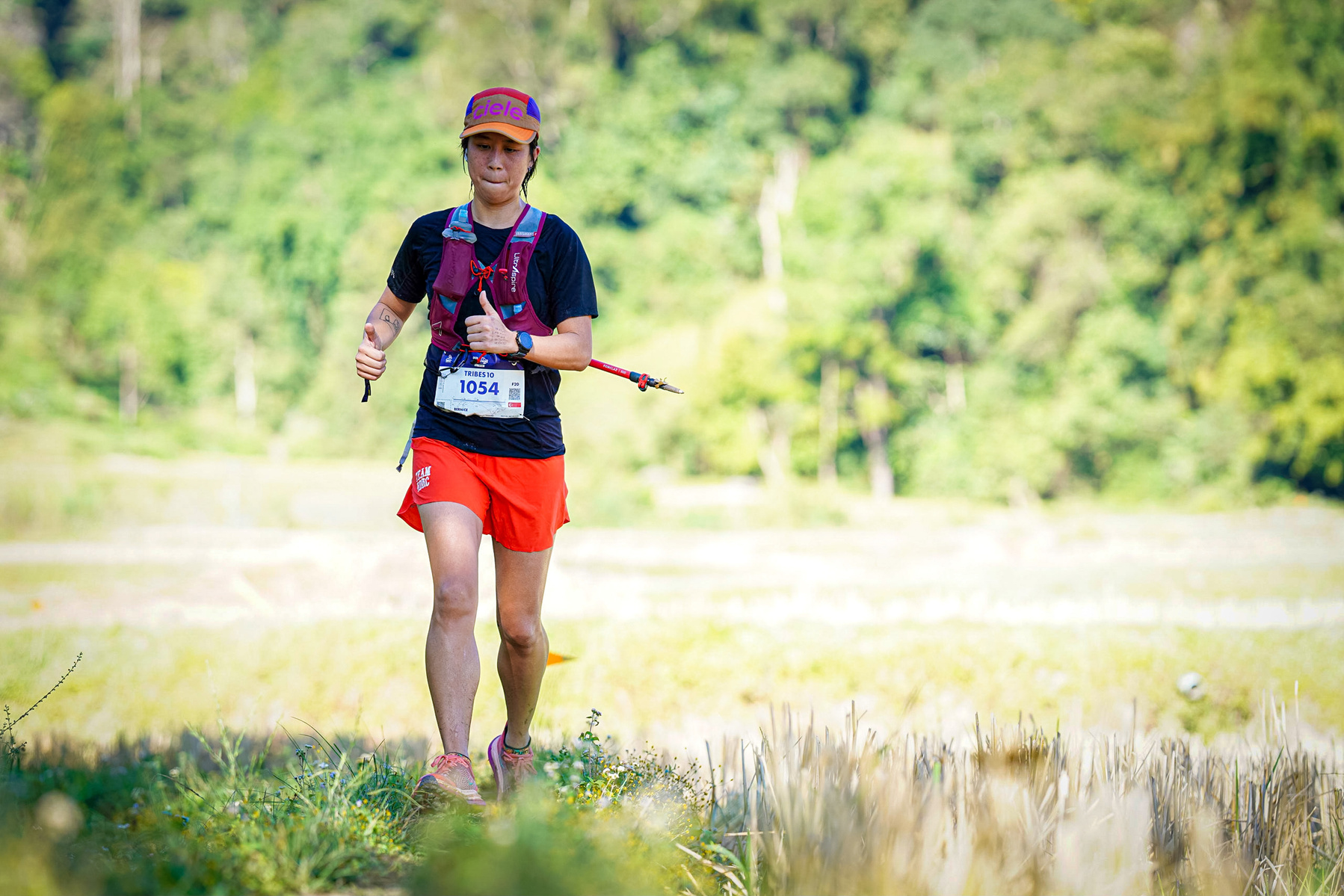 I wasn't even sure whether I wanted to do this run until mid Oct after VJM. The run in VJM was a confidence booster and after some egging from K, I convinced myself to give it a shot. Got quite a few things going on in my head post-race so this is gonna be a verbal diarrhoea of a reflection. Thanks for reading!
Race preparation
I'm not some big time, professional runner, but I guess when I decide to do something, whatever the results, I'd like to do it to the best of my abilities. It's the personal challenge and thrill of achieving one's own goals that propels me in this pursuit. Most of the trail runners I know of are doing these incredible 30 - 50 -100km distances, and some days I do feel like a baby compared to them. But I've learnt to manage my expectations and to embrace my own preferences, which for now would be for anything under 16km. I want to be able to do well in it before moving on to bigger things :)
Having just completed VJM in Oct, I knew I had glaring weaknesses to address coming into this race. For one, I was terribly slow in downhills and had great trouble traversing the padi fields. I also felt my achilles tendonitis was getting iffy and I knew I had to address that.
Came up with an 8-week excel-sheet training program to follow which included 3 run days, 1 optional stairs workout and 1-2 gym days per week. The runs included a good mix of tempo runs, trail practice, elevation training and slow z2 jogs. I did most, if not all, of my runs alone. This gave me the flexibility to start anytime and not be pressured into following any pace - which is good and also bad lah. Could have done with a kick in my ass at times. The gym sessions were important for me to strengthen my calves, and soleus muscles, which would alleviate the achilles tendonitis issue. I also focused on doing single leg press (working up to close to body weight, yay!) and exercises to build my glutes and quads. I needed to keep these muscle groups strong to carry me through all the pounding on the trail.
Diet wise I ate everything and anything - from chocolate cookies, to egg tarts, pizza, nasi lemak and ice cream <3 I needed all these happy food to keep me going.
Pre-race things
Because we only decided on going to Doi quite late, the ticket prices were astronomical. The cheaper option was to take a transit flight - extra time but oh well, beggars can't be choosers. Flew in on the 9th and joined the good folks at Xtrailblazers on the 10th. Edi & Shu Hao from Xtrailblazers were amazing - they arranged all the transport and accommodation for us and it was seamless. I am very appreciative of all the behind the scenes work they've done to make this happen. The trip up from CNX to Chom Thong where we were based took under 90 minutes. We weren't sure how isolated this little 'village' was gonna be so we had van loads of trail runners stocking up frantically at a 7-11 enroute. Quite a funny sight for me.
Took it really easy on 10th Dec. Went for a short jog, had lunch, and just nua-ed the whole afternoon away. Was gonna be sleeping at 8pm BUT pre-race nerves got the better of me. I tossed and turned in bed and only managed to sleep a grand total of 1 hour. Even got SO hungry I had to eat the 7-11 sandwich I was planning to keep for my morning. The absurdity of it all :')
Race Day
Woke up way before my alarm, did some stretching, had coffee, and the van came to pick us up at 6.45am. My fuel for the run was 5 dates + 2 white toasted bread and of course Tailwind.
Got into the pen at 7.40am and was probably in the 5-6th row at the start. Didn't want to squeeze my way to the front because I thought it would be nice to have some people in front of me so I could spend less headspace navigating the course. I was nervous but also ready to "just go only".
My game plan was to not get too caught up at the start and to go conservatively because I didn't want to kill my legs before the last big climb and to run back with my dignity intact (i.e. glamorously). The gun sounded and off we went. The first 400m was uphill so I was already huffing and puffing and wondering if things were really gonna be like this the entire journey. Thankfully after awhile, I managed to settle into a comfy pace before the first big climb.
I'm vvvv glad I brought along my $20 decathlon pole because it helped take weight off my legs during the incline. I mean it's not the easiest to wield around because I can't compact it small enough to fit it nicely in my pack, but it was still a very useful equipment that I'm glad to have had. Some of the inclines were so steep, I felt myself slipping back with each step and constantly looking at my watch to see if we were reaching soon!! I remember Layton telling me previously that I should 'just keep moving'. Bearing that in mind, and Phil 4:13, I kept going.
While I definitely improved my downhills (compared to the joke that I was in Cultra), I was still significantly slower than many. I could only watch in envy as folks glided down effortlessly, while I galloped along with lots of care and some trepidation. Alas, I was comparatively slower at the padi fields again but I could cover decent ground when the trails were less technical.
The second big climb was trying. By then, our paths had merged with the runners doing 25km. They were also at the tail end of the race, and the people I caught up with were probably mid-to-end pack, so I managed to overtake folks 'one person at a time'. As I emerged out of the trails into the road, I was surprised to see K waiting there! He had already completed his 25km earlier on, took some rest, and came back to make sure I finished strong.
Far from a stellar performance, but I definitely surpassed my expectations. 8th in my age cat, and 21st woman (out of close to 300?). I'm glad I challenged myself to this. Feels like I've still got so much to give and grow in trails, and I've got my eyes on bigger goals in 2023.
#teamRDRC
[Gear check] Top - t8 / shorts - rabbit / shoes - hoka mafate 4 / cap - ciele / watch - coros apex 2 / race vest - ultraspire basham 2.0 / fuel- tailwind. All available at Red Dot Running Company.